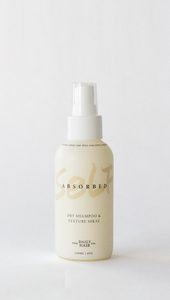 SELF ABSORBED DRYSHAMPOO+TEXTURE SPRAY
We're excited to offer this revolutionary Wet2Powder ™ dry shampoo that works like an aerosol...but isn't!
This game changing, clean ingredient dry shampoo & texture spray is bought to you by BeSelfAbsorbed. A female founded, Vancouver company quickly taking the hair world by storm.
You'll love the low cast tapioca formula that safe for all hair types & colours. 
Instead of synthetic perfumes, they added high quality essential oils to refresh & invigorate greasy hair. It's a spa-like experience for your dirty roots.
SELF-ABSORBED is a 3-5 month supply! With daily use, this dry-shampoo will still last longer than your usual aerosol (making it only $9/month for a safe and healthy dry-shampoo spray)
Use on day 1 hair as a texture spray/oil prevention system. 
Use on day 2+ for grease absorption & volume. The wet-to-powder technology works as a Keratin reset, allowing you to restyle your bedhead & greasy flat hair. Go one more day without washing your hair...we dare you.
To see the magic in action and learn more, head to @beselfabsorbed on Instagram.